Posted on November 10, 2021 in
News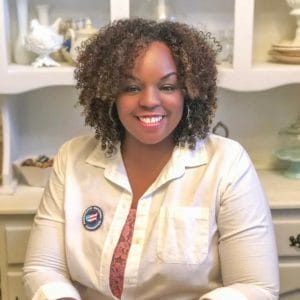 Rock Region METRO Vice Chairman Nicole Hart recently served as Arkansas' top official for the state Democratic Party in her role as interim chairman of the party leading up to elections last month. Hart visited with the METRO team about how she achieved this prominent role during a time of heightened conversation about minority and female leadership in the United States.
It was love of family and public service that shaped Hart's life of leadership.
Growing up in East Oakland, Calif. under the guidance of a single-parent father, Hart was a frequent caretaker of three younger sisters and had a job at 12, contributing to the family's bills. An opportunity to get involved with a community garden around the corner from her home that had been a site where, pre-cleanup, frequent drug deals were made, gave her a chance to see how a community could work together to improve an area. Hart said her volunteer work with the project also gave her a greater understanding of disadvantages that existed within her community, spurring her into student leadership. She eventually served as an advisor to the mayor of Oakland and then ran the Mayor's Youth Council. During that time, she said she focused on understanding the culture of her home city and its investment in poorer neighborhoods and the youth who lived there.
"I would not have known about these opportunities [outside of this volunteer experience]," Hart said.
After visiting Washington, D.C. and meeting President Bill Clinton as a youth roundtable participant, Hart was resolved to lead a life of public service and began that journey as a freshman at Harding University in Searcy, where she received a scholarship.
The unexpected death of her father in 2001 immediately threw Hart's plans in sharp relief, though. With her younger sisters placed in a group home, Hart's caretaking response sprang into action. She petitioned the judge and social worker involved with her sisters' case for guardianship of the girls but was denied because she had no steady income as a full-time college student. Some friends suggested she enroll in the National Guard to provide the income needed, so Hart put together a plan, the judge approved the plan and her sisters moved in.
Hart experienced the social safety network on-the-fly, signing up for food stamps and rental assistance and navigating the complexities of the Interstate Compact on the Placement of Children program. In two short years, Hart faced a new challenge: She was deployed overseas to serve in the Iraq War, with two weeks' notice. She immediately began searching for her mother to move her to Arkansas to care for her sisters, setting her up with a bank account Hart funded to help the family stay afloat while she served.
"I went from sitting at a desk at Harding to sitting at a machine gun, and I had to become a different person to adapt," Hart said. After serving two years as a 50 cal gunner and combat life saver, Hart returned to civilian life and "reshaped [her] story" to become an advocate for veterans, having a diagnosis of traumatic brain injury and post-traumatic stress disorder. Through her connections, Hart landed a position with Gov. Mike Beebe's administration, serving as the Governor's Office special liaison for military and veteran affairs and using her institutional knowledge and experience to help shape statewide programming and policy. Through that work, Hart served as  the first woman and first African-American on the Joint Terrorism Task Force, which involved traveling throughout the state. She said the challenges of being a minority in uniform gave her an appreciation of people who see beyond color, and she is determined to raise her daughter with intentional exposure to diversity.
It's work she continued as she served as the CEO for ARVets until 2017, and, more recently, as CEO and managing partner of the consulting firm Hartworks Strategies and as vice chairman of the Rock Region METRO Board of Directors, where Hart has served for four years and has recently been reappointed by North Little Rock Mayor Terry Hartwick for a new 4-year term.
Asked what takeaways she has for other women who seek leadership opportunities, Hart said it's important to understand people and community.
"Don't make it about you; make it about the people. My story comes into play because it intertwines with a larger narrative," she said.